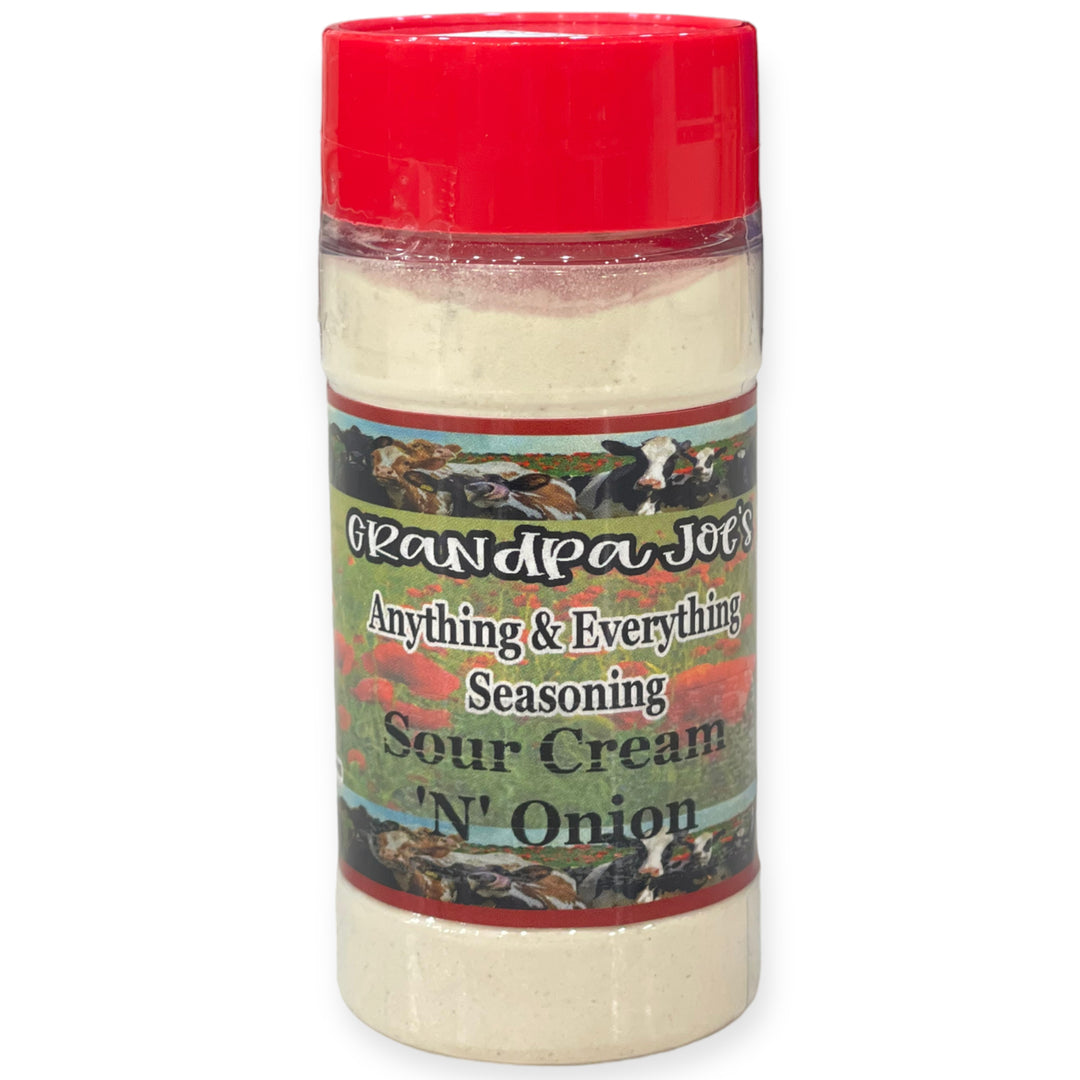 Grandpa Joe's Sour Cream 'N' Onion Anything & Everything Seasoning
---
With Grandpa Joe's Sour Cream 'N' Onion Anything & Everything Seasoning! This versatile seasoning blend is packed with the perfect balance of tangy sour cream and savory onion flavors, making it a delicious addition to a variety of dishes.
For starters, imagine sprinkling this seasoning on a piping hot batch of french fries. The combination of the crispy, golden fries and the zesty seasoning will create a mouthwatering snack that you won't be able to resist. The tangy sour cream flavor will complement the saltiness of the fries, taking them to a whole new level of deliciousness.

If popcorn is your snack of choice, look no further than Grandpa Joe's Sour Cream 'N' Onion Anything & Everything Seasoning. Just sprinkle a generous amount onto a freshly popped bowl of popcorn, and watch as the savory flavor transforms this classic snack into a gourmet treat. The creamy sour cream taste pairs perfectly with the crunchy texture of the popcorn, creating a truly addictive combination.

But don't limit yourself to just snacks - this seasoning is also a fantastic choice for enhancing the flavor of your main dishes. Try rubbing it onto chicken or steak before grilling or baking, and let the tangy sour cream and onion notes infuse into the meat, resulting in a juicy and flavorful entree.

For a simple yet satisfying side dish, sprinkle this seasoning onto baked potatoes. The creamy sour cream flavor will beautifully complement the natural earthiness of the potato, creating a comforting and indulgent dish. You can also toss it with roasted veggies to add a burst of flavor to your healthy meal.

The possibilities truly are endless with Grandpa Joe's Sour Cream 'N' Onion Anything & Everything Seasoning. So unleash your creativity in the kitchen and let this versatile blend elevate your favorite dishes to new heights of deliciousness. Whether you're snacking on fries, munching on popcorn, or enjoying a hearty meal, this seasoning will always be the perfect companion. So go ahead, sprinkle it on anything and everything, and prepare to be amazed.

3oz.