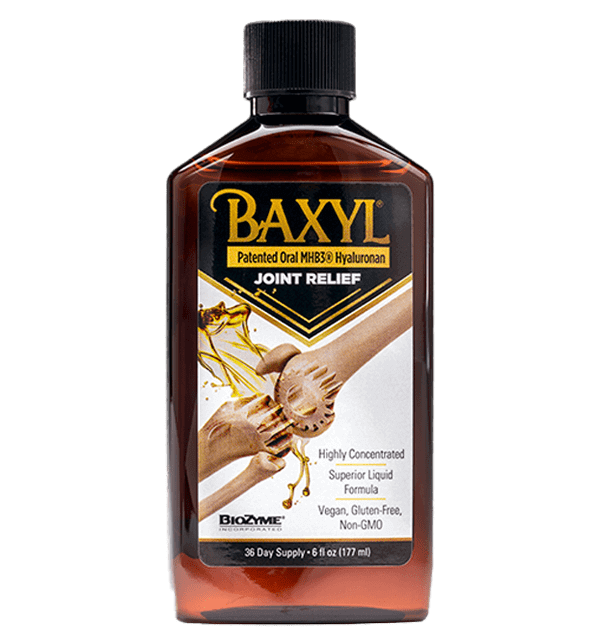 Baxyl
---
Baxyl is a liquid hyaluronic acid supplement (HA) (hyaluronan) formulated to alleviate joint discomfort in humans. Baxyl is the only joint supplement that demonstrates proven efficacy and safety with double blind, placebo-controlled University studies. Baxyl is covered by multiple patents.
Because Baxyl's liquid joint supplement is fully hydrated, it is absorbed quickly and immediately put to work by the body, offering guaranteed results. Baxyl doesn't come in pill form. It is exclusively sold as liquid because dry dosage forms are not effective for several reasons. Though arguably bioavailable,  dry forms of the optimal molecular weight cannot be absorbed by the body. Dry forms that are absorbed by the body, are chemically too small to be effective and are excreted as waste. So dry hyaluronic acid supplements will not benefit users as effectively as a liquid supplement. Gel caps are bioavailable but poorly absorbed because oral HA supplements are primarily absorbed sublingually through the mucosal tissues of the mouth and esophagus, and gel caps are not bioavailable pre-digestion.
Baxyl is a vegan, gluten-free, soy-free, meat-free, sugar-free, non-GMO HA supplement, and has no artificial or natural colors or flavors. Baxyl uses only the finest ingredients from the USA and Europe and offers full traceability on all ingredients.
SUGGESTED USE
1 tsp orally twice daily for first 7 days followed by 1/2 tsp twice daily for maintenance.
Contains no animal derivatives, sugar, yeast, grain, gluten, starch, soy, egg, dairy products, artificial coloring or artificial flavoring and is 100% vegan.
SERVING SIZE: 1/2 tsp (2.5 ml)
SERVINGS PER CONTAINER: 72 (36 day supply)
INGREDIENT:  MHB3® Hyaluronan
AMOUNT:  30MG
% DAILY USE:  **
** Daily Value not established.
Other ingredients: purified water, citric acid, potassium sorbate, sodium chloride.